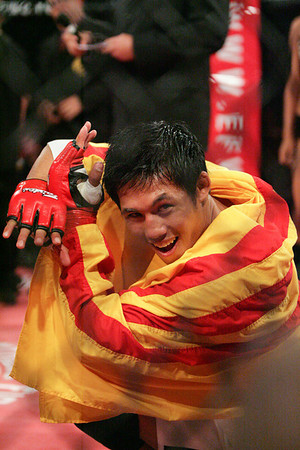 Can an Asian brother get some love in sports? Nam Phan, a first generation Vietnamese-American, is an up and coming MMA fighter that's out to build a reputation and make a name for himself. Recently, Phan had his first debut in the UFC to fight in the octagon. This fight had to be one of the most ugliest decisions ever made by MMA judges. Fighting with all of his blood, sweat and tears, Phan was robbed of his victory losing by split decision to Leonard Garcia.
Everyone, including Garcia was shocked on the final decision. The fight was held in Las Vegas, where Garcia spent missing most of his big punches, while Phan landed some hard on point shots. We were cheering for Nam to finish him up and knock him out. There were some missed opportunities that he had to ground and pound when Garcia looked dazed.
We demand a recount! The judges are a disappointment and must have been busy staring at the hot UFC ring girls to come to a decision like this. Every fighter out there put in immense amount of time, dedication, and effort into their training and fighting. Justice needs to be served. We believe everyone is on our side with this when we say that Nam Phan got robbed! All we know, is in the end, we still support our fellow Vietnamese-American fighter. Go Nam!
Press play to check out some of the highlights and the final decision from the fight: